ACHILLES IN SPARTA
A PLAY FOR YOUNG ACTORS WITH FLEXIBLE CASTING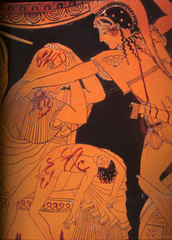 A tragedy has befallen a great city. A country girds for war. Helen, the national figurehead of beauty and hope, has been abducted from Sparta, and its young men and women—those most likely to do the fighting, and mourning—ready themselves for war.

Developed expressly for young actors, Achilles in Sparta uses short, highly theatrical scenes and monologues to tell the story of a nation marching towards inevitable conflict and the fall of a hero. With variable casting possibilities intended to meet the needs of a group of any size, from small class productions to conservatory programs with large casting demands, Achilles in Sparta provides an engrossing entryway into the classics through an emotionally accessible and linguistically rich theatrical experience that explores the joys and challenges of stagecraft and acting.

---

---